Welcome to "Email of two cities," a now-recurring series where my very smart friend Jake Foote and I discuss and debate our favorite things going on in the music world
Jake is an Atlanta-based journalist, committed New York sports fan and firm believer that Frasier is the greatest sitcom of all time. We used to (and maybe still do?) run a blog together, which we called I Called Game.
Jake: Sup Dill. It's been a long time since we've done one of these and with you living across the pond I wanted to reach out and connect about some new music stuff.
I think it's safe to say 2017 was a bit of a slow year for music. Not to downplay any of the albums released last year—there are tons that I loved—but most years produce a higher number of musical projects I would consider "culturally essential." Besides the Captain Underpants soundtrack, there wasn't as much insanely memorable music as in 2016.
But I think 2018 is poised to unload a lot of good music. Just in January, Moon Taxi, Tune-Yards, Porches and The Shins released albums that I liked or at least found somewhat enjoyable to listen to. I figured I would open us up and get any thoughts you might have on any of the aforementioned albums and your thoughts on what the overarching takeaways might be from music in 2018?
Dillon: Jake, I appreciate you putting in the hard work of pushing this email through UK customs. And it's good to be back—especially since we have so much to talk about.
2017 was definitely a comedown. I mean scientists have confirmed that, thanks to human activity, 2016 was the "hottest year on record." I'm assuming they were talking about Frank Ocean and Beyonce when they said that.
To your point, 2018 is looking pretty exciting so far—I'm thinking Porches' The House might be the best record I've heard in months—but I'd also suggest a little bit of cautious pessimism going forward. If Migos' way-too-long Culture follow up is any indication, getting your hopes up can be a dangerous thing.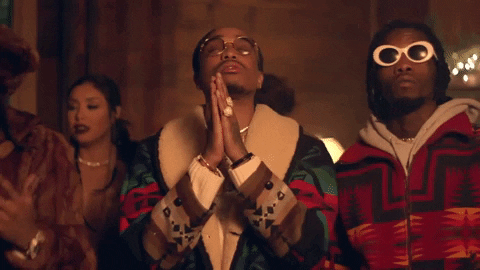 Jake: I agree that it would be impossible to listen to Culture II front-to-back without your brain turning to mush, but I actually think the 24-song album might be a viable idea in the long run. Migos were not going to be able to eclipse the success and influence of Culture: They would literally have to invent a whole new set of hip hop trends, rather than just expanding on the ones they already made insanely popular.
The 24-song slate, while it may appear a huddled mess now, gives the group twice as many chances at slow-release radio/Spotify hits.
This happened with Culture. "Bad & Boujee" got played to death, then it was on to "T-Shirt" and then finally "Slippery" became the most played song out there. I think Migos has such a strong understanding of the way their music catches people, they wanted to cast a wide net in this regard. I mean why not? They literally could not be more in demand.
I was disappointed to not see them perform at the Grammys, though. In fact, I thought hip-hop and rap music should have been better represented overall.
Maybe five minutes of Sting instead of 10? Maybe slide in a Jay-Z medley or a hip-hop potpourri with Migos and Lil Uzi Vert? I don't even like Lil Uzi Vert that much, but XO Tour Life was one of the most undeniable earworms of the past year. I just felt that hip-hop was pretty underrepresented. (I'm not even mentioning the actual awards, no one should take those seriously. They misrepresent almost every genre of music in the most abhorrent way.)
What are your thoughts on this?
Dillon: To your point, Culture II was definitely a major power play. How many groups are in the position to even release a 24-song album? Let alone give it a Fast n' Furious-style name that basically insists the group's hip-hop dominance. Everyone knows sequels are always worse—Spiderman 2, Terminator 2 and Frasier notwithstanding (that last one's just for you)—but Quavo, Takeoff and Offset basically just said "so what?"
Ultimately, that's a pretty baller move.
And I'm with you on the Grammys. Is there a genre that's anywhere near as culturally pervasive as hip-hop right now? Here's a fun stat: 10 of last year's 15 most popular albums were either by rap artists, or featured heavy rap influences—11 if you count the Moana soundtrack.
Rap music is the closest thing we have to a monoculture right now, and the Grammy Board has to know that, right? They might be "out of touch," but I guarantee every one of them has at least tried to get Hamilton tickets. And I don't think this is ending any time soon either. I mean, do you see any other type of music even close to competing with hip-hop for radio play in the next few years?
Jake: You're right this is not new and probably won't change. The very first Grammys featured Frank Sinatra racking up awards while Chuck Berry was ignored.
You raise a good point mentioning Hamilton. Would the Grammy board be down for hip-hop music if it was packaged and delivered in a different way? Is that racist? It's at least disrespectful to the culture.
Another gripe I have: "Despacito" should have won best song, my argument being strictly how many people listened to the song. It's just as meaningless as "24K Magic," but has five times as many views on YouTube. Music is so subjective and personal, why not actually pick the song that we know for sure was the "most liked?"
Also, I thought the "Despacito" performance was kind of lit. I didn't know that Daddy Yankee could actually sing (assuming he wasn't lip syncing).
Dillon: That's a really interesting point. If you're going to go safe why not just go all the way safe? It's kind of like vanilla ice cream: No one's particularly amped about "Despacito," but come on, who says no to free ice cream?
And I think it does at least say something about the show's presentation value that such an overplayed song made for such a compelling performance. Speaking of the performances, I thought Childish Gambino's decision to play "Terrified," a relatively deep cut off his last album, was a total risk that absolutely paid off. He just seems like the type of guy that can't lose right now.
I was wondering if there are any other artists you can think of who are in that sort of "heat check" mode at the moment—people who can basically shoot their shot from anywhere and know it's going to go in.
A few that come to mind for me: Cardi B (killed 2017, turns every guest appearance into a guaranteed hit), Action Bronson (hosts multiple TV shows, wrote his own book and still makes great music) and Courtney Barnett (one of the closest things indie has to a rock star, made collab albums cool again). Do you have any 2018 "heat check" nominees?
Jake: Hmmm. I'd say Drake seems poised to unleash some heat at some point this year, but he's not necessarily new to this category. He's more the Jamal Crawford to Courtney Barnett's Donovan Mitchell, which makes Kurt Vile Trey Lyles.
Takeoff and Lil Yachty are about to throw up a step-back three-pointer that will either swish Steph Curry style, barely touching the net, or clank off the side of the rim like an ill-advised Marcus Smart jumper. With his newly appreciated role as a member of the Migos, Takeoff could ascend into the heat check danger zone.
In an interview with The Breakfast Club last week, he was asked when the project was dropping and responded by yelling in his ad-lib voice, "Justwaitonit!" That's what we will have to do for 2018, but I'm optimistic it's going to be a big year for music.