Welcome to 'Email of Two Cities,' a series where I chat with my very smart friend, Jake Foote, about our favorite things going on in the world of pop music
Dillon: Hey Jake. It's been a long, long time since we've done this—at least six Kanye albums worth of time in fact, which is what I'm pretty sure has become the new standard unit of temporal measurement.
Speaking of Kanye, who's supposedly staging his own return just three months after giving us a month-long brain dump of new music earlier this summer, I can't help but feel like we're living in a really distinct time right now: comeback season.
I mean, just look around: Tiger Woods is winning tournaments again, Markelle Fultz is shooting jumpers again and Michael Myers is killing teenagers again. The return is nigh.
There are two comebacks I want your thoughts on in specific. First, let's start with the obvious: after years of trying to free himself from Birdman's secluded, financially irresponsible nest, Lil Wayne has finally released Tha Carter V. What are we supposed to make of a project that's been through so many roadblocks, so many permutations and so much turmoil? Does it change the way we should think about its effectiveness as an album? And, aside from all of that, are the songs actually good?
I'll keep put second comeback on the back burner for now, but you're welcome to take some guesses in the meantime if you'd like. Until then, I'm just happy that this little email chain is able to hop on the comeback hype train too. It's good to be back.
Jake: It has been a long time, and thank goodness Markelle Fultz is back. Comeback Szn is here: it's a brief tumult of a season that leads us into everyone's favorite time of the year, cuffing season.
But you're right, a lot of people are making some huge comebacks these days. In music, there's been none bigger than Lil Wayne, who finally delivered on Tha Carter V. My answer to your "is it good?" question is kind of complicated, but I ultimately think the answer is yes.
I wasn't sure what impact the roadblocks and turmoil should have on my expectations for the album. I have a healthy respect for Lil Wayne, and like with most people our age, he was a pretty important gateway into more advanced hip-hop listening for me when I was younger. That being said, I became severely disillusioned with Wayne during my angstier years, and my view of his newer music hadn't changed all that much, until recently.
This most recent album, while too long, is definitely an enjoyable listen, and his influence in the hip hop world can't be underrated. He gets a top notch effort from Kendrick Lamar on "Mona Lisa," and the beat on "Let It Fly (feat. Travis Scott)" is no throwaway. Wayne places an emphasis on storytelling and exploring unique flows and cadences, which sadly is becoming more of a rarity these days. Several years ago, a new Lil Wayne album would have greatly bored me, but this one is a breath of fresh air.
The fact that he's stayed relevant, remained respected as a legend and established himself as a modern-day OG is a huge victory. That would be the case even if the album were terrible, but it's not. I actually think it's very solid. It probably won't crack my top 10 list, but it's still an accomplishment considering that before this Wayne was kind of toiling around like the Josh Gordon of rap.
Dillon: I think you might be on to something here. Is it possible Lil Wayne disappeared for just long enough to avoid becoming washed? If we want to look at it that way, we should all be thanking Birdman for saving us from years of Wayne-overload.
You don't have to look too far for an example of what that alternate universe might have looked like either. Eminem has been trying his absolute hardest to exhaust fans for years, and his latest album seems like proof that he doesn't plan on backing off anytime soon.
But like you said, it certainly helps that Tha Carter V is actually a solid record. Even at his best, Lil Wayne always toed the line between legendary and laughable (his verse on Drake's "The Motto" is possibly the ultimate example of this). This record was always going to be a victory lap, one that Tunechi could've just power-walked his way through had he wanted to. Instead, he came out at full speed, and actually managed to hold his own with artists—like Kendrick, Nikki Minaj and Travis Scott—who all feel more skilled and more relevant than him at this stage in their career.
It's impressive to say the least, but, to me, it's still not the most important (subtle plug) return of the weekend. That brings me to that second comeback I alluded to in my first email: the shocking, triumphant return of The Fresh Prince.
Will Smith celebrated his 50th birthday last week by jumping out of a helicopter, but apparently that wasn't enough excitement for him. He followed the now-viral (16 million YouTube views and counting) performance by hopping on "Está Rico" the latest single by Latin pop super-duper star Marc Anthony.
I know how you feel about Bad Bunny, who's also featured on the song, but it's really Smith who really comes in as the track's MVP. He sounds strangely comfortable over the salsa-trap backbeat, and somehow managed to bring back the "Haha, woo!" ad-lib without making me want to clog my ears with peanut butter.
Jake: You know my thoughts on peanut butter and its healing properties, but I'll save those for my lifestyle blog. Will Smith is a legend: I watched Bad Boys for the first time the other day, so you've caught me in the perfect Fresh Prince hype upswing.
His business and personal brand decision-making skills operate on another plane: he filmed an "In My Feelings" Challenge on top of a bridge in Budapest with what I can only assume are cameras attached to drones, and he basically pre-produced a short film about his daily routine before the Eagles beat the Patriots in last year's Super Bowl.
Now, he's re-injecting himself into the hip hop game, and aligning himself with Latin stars who reach an even wider audience: Bad Bunny has around 32 million monthly listeners on Spotify, while Kendrick Lamar, for example, has 25 million.
As you know, I've been getting more into Latin hip-hop lately, so I'm all for this blend of two of my favorites. Now, this isn't really a comeback, more like a big fat data dump, but I also have to hear your thoughts on the new Young Thug mini-mixtape. I know you wrote about Thugger last week, but I'd like to give you the opportunity to provide me a pithy response about how incredible On the Rvn is.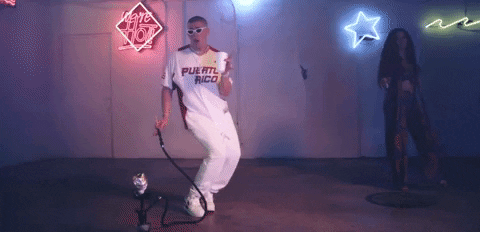 Dillon: I'm glad to hear you feel the same way about Will Smith as I do. It's also incredible to see a middle-aged man use his insane wealth and global fame in such a simple, innocent way like this. It's like watching a very, very rich baby learn to walk for the first time.
Do we think Will Smith has anything else in the oven? Like you said, "Está Rico" is a massive brand extension for him, and I'd love to see him wet his beak into a few more trending genres. Could we get a Will and Jaden collab album someday? Some sort of LeBron and Bronny Jr.-level family team-up that enthralls multiple generations and gets a lot more critical buzz than After Earth did? (For what it's worth, that movie has an 11 percent rating on Rotten Tomatoes: I expect more from the Smith family).
Two blog call-outs in two emails! I'll absolutely take the free promotion. Last week, I gave Young Thug his own awards show, because, let's be honest, who deserves it more than him? In terms of raw output, no artist has been as prolific over the past five years, and Thugger has used his superhuman creative endurance to play with as many genres and styles as he can.
It's like that scene in Avengers: Infinity War where Dr. Strange uses his jewelry powers to analyze 14 million different ways to fight Thanos: Young Thug is attacking the music industry from every direction, and God help us when he figures out the scenario where he wins.
On the Rvn isn't just Thugger's latest experiment though. For an EP, it's a total triumph. Songs like "Sin" (featuring the non-bungee-jumping Smith family rapper) and "On the Rvn" are some of his best trap-pop performances to date, while "Climax" is the sort of late-night zone-out music that you'd expect from a far more R&B-leaning artist.
Then there's "High," the Elton John-featuring, part-cover-part-remix that feels like a truly important moment for hip-hop. It's beautiful, it's a banger and Elton John loves it. It's the kind of song that I really hope can stand the test of time, but in today's content-stuffed Crunchwrap Supreme of a music industry, it's hard to know what might fall through the cracks.
What are your thoughts on that change, especially in hip-hop? It seems like rap albums are becoming more a lot longer, and a lot more frequent, and there's no evidence this is going to slow down soon. With dozens of new mixtapes coming out each month, it seems like some truly great projects, like Noname's Room 25, can easily get overshadowed.
Jake: Young Thug is an interesting case. He released a mixtape called Slime Language in August, then quickly followed up with On The Rvn, (which is fire by the way) and then hops on Twitter to say that the Barter 7 is coming soon.
And I think everyone believes it's possible. We technically haven't had Thugger's "debut album," but he seems completely content with just cranking out mixtapes (or mini-mixtapes) on a whim.
Personally, I'd like him to focus on a longer project with lots of great features, and then market the album as his magnum opus up to this point. This doesn't seem likely, but it would be a lot more conducive to my listening habits than his current release schedule is: there's simply too much music out there for me to give every Young Thug release its due diligence of a few listens.
It's also a shame that Noname's latest project gets lost in the shuffle. I think she's the hottest active female emcee (Nicki Minaj please don't come for me in my Twitter DMs) and is criminally underrated. She really doesn't get enough respect for truly expressive lyricism, unique storytelling and a diverse pate of flows that are refreshingly devoid of a statement announcing a flow change after it happens (again Nicki please don't).
The fact of the matter is, hip-hop is moving away from lyricism and more towards bop and vibe. This isn't news or a profound point, but it makes me wonder what a younger hip-hop listener's entry point into the genre dictates about how far back they will reach to learn more about how the genre has reached its current landscape. Everything is a banger now, and like you said before, the bangers are coming at a faster pace than ever.