There are plenty of hip-hop lyrics about Westeros, but who's actually done their homework? To find out, we're ranking each line based how much each rapper knows about the 'GOT' universe.
Some of rap's greatest moments are also its nerdiest.
And the genre's relationship with obsessive, mega fanbases—whether it's through comics, anime or fantasy—is a crucial part of its history: Wu-Tang compared themselves to Voltron on their debut album, Chance the Rapper snuck a Harry Potter deep cut into his 2016 track, "How Great" and rappers have been referencing Dragonball Z since Goku still had his tail.
But those references have to feel honest. Authenticity goes a long way in hip-hop—and it's pretty easy to tell when a rapper really knows their stuff, or when they're just trying to capitalize.
Game of Thrones presents a particular problem though. The soon-ending TV series (and maybe never-ending book series?) is such a cultural behemoth that it's safe to assume basically ever rapper at least knows what a White Walker is.
So how do we know what's for real? Which rappers have read the books, which ones have seen the show and who's just trying to pretend?
The best way to settle this is through pure, objective lyrical analysis. We'll be looking at eight GOT references throughout the hip-hop spectrum, and ranking each one based purely on how knowledgable it seems each rapper is about the Westerosi world.
A quick note: We are not including any of the songs from the HBO-sanctioned Catch the Throne mixtapes. The reason for this is pretty simple—we're going to assume that if a rapper signed on to an entire album based around Game of Thrones, they'd at least done their homework. Also, OBVIOUS SPOILER WARNING AHEAD. 
Everything understood? Good, then let's get into it.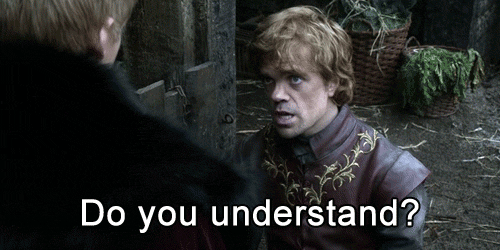 8. Giggs – 'KMT'
The lyric: "Whippin' that white girl, cookin' that Cersei."
What he knows: We have to give some points for accuracy here. Cersei Lannister is, in fact, a white girl (just like cocaine, Giggs would like you to remember).
Still, there's a pretty big difference between speculating about what's under the Crypt of Winterfell and reciting the race and gender of the show's main characters, so that's about as much credit as Giggs is going to get.
GOT knowledge score: Knows as much as about Thrones as Wildling knows about Dorne.
7. Stormzy – 'Lay Me Bare'
The lyric: "I was a young Ned Stark, but this s***'s like Game of Thrones sometimes."
What he knows: This is a really tough look for Stormzy. On the one hand, he's trying to show his innocence and virtue by comparing himself to probably the show's most ethical character ever.
But… there's also the whole that character's been dead for nearly 60 episodes thing. Not only is Stormzy revealing he definitely hasn't watched beyond season one, but he's also taking a huge loss by connecting himself to a such a famously headless character.
GOT knowledge score: Possibly caught an episode on accident while binge watching Big Little Lies. 
6. Drake – 'You & The 6'
The lyric: "I pull the knife out my back and I cut they throat with it, momma. I'm Game of Thrones with it, momma. I'm Home Alone with it, momma."
What he knows: Drake clearly understands a thing or two about the brutal world of Westeros, but it sort of seems like he's never seen Home Alone? Yeah, getting hit in the head with a paint can isn't the greatest feeling in the world, but it's a lot different than having your throat slashed.
GOT knowledge score: Has seen every episode, but calls White Walkers "the zombies."
5. Aminé – Heebiejeebies
The lyric: "Give me heebiejeebies. Attitude Khaleesi."
What he knows: This one's a little unfair, since we know from Aminé's Genius annotations of this song that he's a major GOT fan. But, as Ned Stark—and apparently not Stormzy—learned the hard way, there's no playing fair in Westeros, so we have to respect the extra hustle here.
GOT Knowledge Score: Has posted at least one "Bran is the Night King" theory on the r/freefolk Reddit page.
4. Lil Bibby – 'John Snow'
The lyric: "Like Rob who? Boy don't be no dummy."
What he knows: Somehow Lil Bibby managed to make an entire Game of Thrones song while only rapping one line about the show.  That being said, it's a pretty good one: he obviously understands the Stark family's dynamics and knows about John's heroic accession. He's also definitely going to rob you.
GOT Knowledge Score: Paid $350 for the leather-bound book box set, but never read them.
3. Mac Miller – 'Aquaberry Dolphin'
The lyric: "I'm with my b**** in the bed watching Game of Thrones. Waiting 'til Khaleesi's dragons big enough to take control."
What he knows: This line was most likely written during season 4 of the show, back when Daenerys was still on the Slaver's Bay struggle. That make's the verse's effect twofold—it indicated that Mac was definitely caught up with Thrones, while also indicating he had a pretty clear perspective on the show's endgame.
GOT Knowledge Score: Grand Maester
2. JPEGMAFIA – 'Police & N*****'
The lyric: "Black Rob Stark nodding off." 
What he knows: Simple, sweet and perfect. JPEGMAFIA had to have watched "The Rains of Castamere" at least a few times to come up with this Red Wedding entendre.
GOT Knowledge Score: Almost made his rap name R + L = J-PEGMAFIA.
1. Inspectah Deck – 'MF Czar'
The lyric: "What I write sting, I'm the Night King."
What he knows: Inspectah Deck is basically the Three Eyed Raven of Staten Island. By comparing himself to Westeros' two most frightening figures—the Night King and George R.R. Martin. Game of Thrones fans have learned no character is safe in Martin's world, and Inspectah Deck's lyrics should come with the same warning.
GOT Knowledge Score: Is probably ghostwriting the final chapters of The Winds of Winter.